Accommodation
The 7th ANMA Secretariat is pleased to present Summit Hotel KL as the official accommodation for the 7th ANMA Meeting and Conference. Delegates will enjoy preferential room rates at this hotel during their stay in Kuala Lumpur. Nevertheless, delegates may opt to make their own accommodation arrangements.  The hotel is also just 5 minutes' walk to Premiera Hotel which is the venue for the conference and meeting.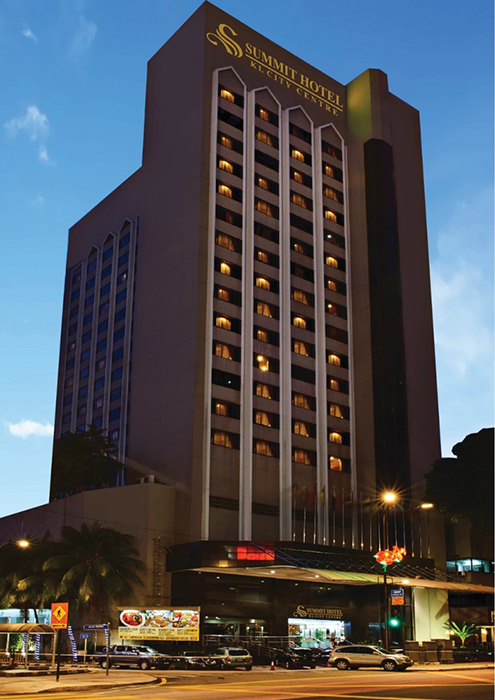 About the Hotel
Summit Hotel KL City Centre brings together your pleasant stay, wealth of dining options including HALAL Dim Sum, shopping and fills both your business and leisure travel. 
Located at Jalan Raja Laut, it is surrounded by the corporate and government office of Kuala Lumpur, most popular shopping arena such as Jalan Tuanku Abdul Rahman, Jalan Masjid India, Soho Shopping Complex, and places of interest such as historic "Merdeka Square" and "Central Market".
Summit Hotel is easily accessible through a network of integrated railway connections such as monorail and Star LRT, making it just minutes away from the renowned Petronas Twin Tower, Suria KLCC, KL Sentral and 45 minutes drive from Kuala Lumpur International Airport (KLIA). Plus, Summit Hotel is just 5 minutes walk from the LRT Bandaray Station and LRT Sultan Ismail Station, 7 minutes walk from Bank Negara KTM Station.
 
Address : No.12, Jalan Raja Laut, P.O.Box 11586, Kuala Lumpur, Malaysia
Telephone : +603-26148000
Email : info@summithotelkl.com.my, sales@summithotelkl.com.my
Check-in: 15:00
Check-out: 12:00
Payment Methods
Visa

Master Card

American Express

Pay in local currency at the property
Flight and Airport Transfer Arrangements
Delegates are required to make their own flight arrangements to and from Kuala Lumpur, Malaysia. Kindly provide all arrival and departure flight details of your delegation when submitting the Registration Form. Arrival and departure airport transfers will be arranged for all delegates based on the flight details provided.
Arrival
Our designated Liaison Officer will be waiting for your delegation at the airport arrival gate. Please look out for a placard stating ANMA2019 and the name of your delegation. Upon successful meet up, the liaison officer will bring you to your designated hotel.
Departure
Your designated Liaison Officer will pick your delegation up at your hotel's Concierge Counter (usually located at the hotel lobby), 3 hours before flight departure time. Kindly approach the Concierge Counter and inform them that you are waiting for your transfer to the airport.
Please contact our meeting and conference secretariat (transport and logistics), Mr Zambri Unyah at anmamalaysia2019@gmail.com or +603-2267 1000 if:
• There are any changes to your flight schedules after you have submitted your Registration Form,
• For arrival, you cannot spot your Liaison Officer at the arrival gate, and/or
• For departure, you would like to change the pickup location and time.

Essential Travel Information
Malaysia Weather
The country experiences tropical weather year-round. Kuala Lumpur is both hot and humid throughout the year. The average daytime temperature is 32°C (89°F) while the evening time is much cooler with average 25°C (77°F). October usually is the wet season with brief thunderstorms and rain in the afternoon.
Local Time
UTC/GMT +8
Language
Malay is the national language the many ethnic groups also converse in their various languages and dialects, but English is also widely spoken
Currency
The monetary unit of the country is Ringgit Malaysia and is written as RM or MYR. The exchange rate is valued at USD1 = RM4.17. Notes are available in RM1, RM5, RM10, RM20, RM50, and RM100 denominations, while coins are issued in 5, 10, 20 and 50 sen (cents) denominations. Foreign currencies can be exchanged at airports, banks and money changers.
Prayer Time

List of Sim Card and Telco Providers